After 20 years of being a part of the collectible Trading Card Game community, the price tags attached to the top rarest and most expensive Pokémon cards never ceases to amaze me.
Below I ranked the cards in an order that took into account rarity and, more importantly, what I could find these cards to have actually sold for in the past. There are some cards on this list that should be higher or lower if you were to just consider rarity, but I wanted to keep price speculation to a minimum where possible.
Below are the rarest, most expensive Pokemon cards I could find out there today.

21. Southern Islands Card Set
| | |
| --- | --- |
| Estimated Average Market Value (2021) – Mew-Holo #151 | $305 |
| Estimated Copies Worldwide – Mew-Holo #151 | 310 |
The classic Southern Islands Card Set is currently one of the most valuable themed collections of Pokémon cards.
First released in Japan in 1999, it has an 18-card roster that doesn't vary between the earlier Japanese release and the 2001 English release. 
The set includes fan favorite Pokemon such as Mew, Togepi, Jigglypuff and Slowking. 
A full set also includes postcards and original artwork commissioned by the U.S. manufacturer Wizards of the Coast, the same company that produces Magic: The Gathering cards.
The most valuable card from the set is the Mew-Holo #151. A PSA Grade 10 version of this card has been seen to sell for over $1,300 by itself. 
Example: Click here to see a real listing of how much this card recently sold for!

20. 1st Edition Shadowless Holographic Machamp
This particular Machamp card is from the original series released and is known as one of the most "corrected error" cards from the base set. 
First editions of Pokemon cards are almost always some of the most valuable cards you can collect, and this is no different with this Machamp. 
The Shadowless variant is identifiable by the absence of a shadow around the border of the card. 
Examples of this card in mint condition have been sold for over $5,000.
You can see the most up-to-date pricing and live listings for this card by clicking this link.

19. 2005 EX Deoxys Rayquaza-Holo Gold Star
| | |
| --- | --- |
| Estimated Average Market Value (2021) | $8,614 |
| Estimated Copies Worldwide | 470 |
I've heard that versions of this card that are graded at PSA10 (Gem Mint) have held asking prices of up to $44,000.
The popularity of this card can be attributed largely in part to Rayquaza being the poster Pokemon for the Pokemon Emerald video game for the Gameboy Advance.
So far I have only been able to verify that this card has sold for $9,200.00, but that was for a PSA grade 9 card, not PSA 10.
Although this card is currently number 19, it's safe that it won't be this low on the list for long. 
This card is definitely one to keep your eye on!

18. 1st Edition Shadowless Holographic Blastoise
| | |
| --- | --- |
| Estimated Average Market Value (2021) | $8,452 |
| Estimated Copies Worldwide | 1,860 |
While Blastoise tends to get overlooked for the ever-popular Charizard, the iconic water-type Pokemon should not be dismissed by collectors.
Featured as the poster art Pokemon for the Pokemon Blue version of the original Game Boy Game, Blastoise has solidified its place as one of the most popular Pokemon in the franchise, whether that be the video games or the trading card scene.
You get out the most recent and live listings of this card by click this link.
Fun Fact: A shadowless Pokemon card is one that does not have a shadow drawn behind the Pokemon card's background. If you are interested in learning more about how to identify base set Pokemon cards you can check out this helpful article.

17. Gold Star Espeon & Umbreon
| | |
| --- | --- |
| Estimated Average Market Value (2021) | $3,689 |
| Estimated Copies Worldwide | 2,735 |
The details that make these particular Espeon and Umbreon cards worth so much can be easy to overlook. 
In fact, if you don't know to look for the gold star directly to the right of the Pokemon card's name, you may never realize what you have. 
Which would be a shame, as Umbreon and Espeon cards graded at mint condition have recently been reported to have been listed for sale at $15,000 and $12,000 each.

16. 2002 Expedition "For Position Only" Charizard
| | |
| --- | --- |
| Estimated Average Market Value (2021) | Unknown |
| Estimated Copies Worldwide | Unknown |
This card's rarity can be attributed to its inclusion in "tester packs" that were used internally by the company before the set was officially released.
This can be seen in the Charizard artwork, which is obscured by the white text "For Position Only" which was used to ensure the quality of the test versions would never be mistaken for the final retail version.
Ironically, despite the company's worries about the quality of the test cards, they are now more valuable than the official release!
This is in large part due to the card's phenomenally low print run and the company intentionally destroying test versions during the card's official production.
Although it's very unlikely that you will come across this version of the card, even normal versions of this card have sold for over $900!
A near-mint condition card, like this PSA graded 9.5 card, recently sold at auction for $11,000. Check out the video below to get more information about this card.

15. 20th Anniversary 24K Gold Ginza Tanaka Pikachu
| | |
| --- | --- |
| Estimated Average Market Value (2021) | Unknown |
| Estimated Copies Worldwide | Unknown |
This card was made for Pokemon's 20th anniversary and is a reissue of the very first Pikachu card that was ever produced, except unlike the original, this card was made with 11 grams of 24k gold. 
Adding to the card's rarity is the fact that it was only available to those that pre-ordered it in 2016 for a hefty price of $2,100 each, and you had to act fast, as pre-orders were only open for 20 days!
It's uncertain how many of these cards were produced and can be found in the world today. However, there is no question that the demand for these cards greatly dwarfs the potential supply.
I suspect this card will keep going up in value at a reasonable pace as time continues to pass, if nothing else, you can always just sell the actual gold in the card.
Update!: This card has now sold for over $27,000! Click Here to see the listing.
Fun Fact: Despite this card being a replica of the original Pikachu card ever printed, this version of the card is banned in competitive play.

14. Pokemon Snap Cards
| | |
| --- | --- |
| Estimated Average Market Value (2021) | Unknown |
| Estimated Copies Worldwide | 20 Per Version |
Promotional Pokemon cards often hold more value due to the limited quantity that is produced and made available, but the snap Pokemon cards often hold a special place in the hearts of old-school Pokemon collectors. 
These cards were available as a tie-in with the Nintendo 64 game – "Pokemon Snap", which offered Japanese players the chance at having pictures they took in the game printed on actual Pokemon cards.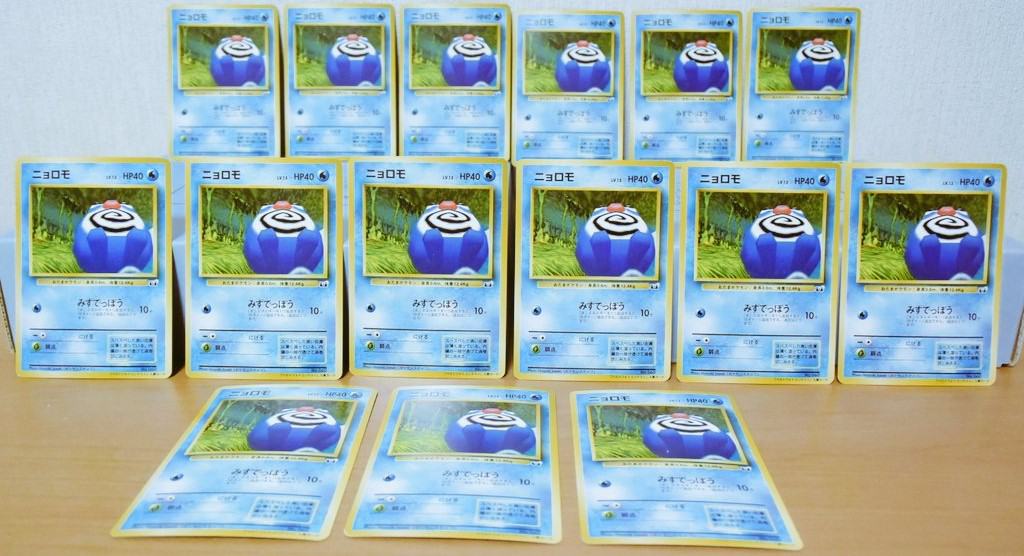 Each contestant that was chosen as a winner received 20 copies of their chosen photo on a real Pokemon card.
Because of their incredibly unique nature and uncertainty around the print run of these cards, they can vary widely in price.

13. 2005 Summer Battle Road Holo Victory Orb
| | |
| --- | --- |
| Estimated Average Market Value (2021) | $12,000 |
| Estimated Copies Worldwide | 160 |
The Japanese Promotional Victory Orb card was given to the winners of the Battle Road Summer Tournaments.
Because these cards were only given to the champions of each tournament, they are exceedingly rare, with only perhaps 160 copies in total ever being printed around the time of the tournaments.
You won't often see this card on live listings, but when you do, it doesn't stick around for long.
Watch the video below to see one of the only 9.5 graded version of this card in the world.

12. 2010 Japan World Championship Master Key Trophy Card
| | |
| --- | --- |
| Estimated Average Market Value (2021) | $20,000 |
| Estimated Copies Worldwide | 36 |
As one of the L-P Promotional cards, this particular card was given to competitors from every age division, 8 in juniors, 6 in seniors, 6 in masters and 16 in video game category.
The competition was held in the 2010 Japanese World Championships held at the Hilton Waikoloa Village hotel in Hawaii from August 13th to 15th.
Due to the number of competitors known to be at the tournament, it is estimated that there are only 36 of these cards in the wild.
You can see one of the only reminding copies of this card in the video below.

11. Ishihara GX Black Star Promo
| | |
| --- | --- |
| Estimated Average Market Value (2021) | $20,000 |
| Estimated Copies Worldwide | 170 |
Over the years, a lot of strange things have ended up as art on Pokemon cards. 
However, nothing has ever truly topped the bizarre sight of longtime Pokemon company CEO, Tsunekazu Ishihara, throwing a Pokeball at fans in this extremely rare promotional card. 
The GX card had a print run of between 30 – 200 copies and was only obtainable at a party held for Ishihara's 60th birthday.
Put all that together with the fact that those who already have the card are highly unlikely to part with it due to sentimental value, and you have one of the rarest (and hardest to price) Pokemon cards.
I was able to confirm that this card has been sold at $22,000, but there are reports that this card has now sold for over $50,000.
Regardless, if it wasn't obvious by this card's extreme originality, expect this card to have a permanent place on all of Pokemon's most valuable card lists going forward.

10. 1999 Nintendo Pokemon Game 1st Edition Venusaur
| | |
| --- | --- |
| Estimated Average Market Value (2021) | $7,322 |
| Estimated Copies Worldwide | 1670 |
I'm sure no one is surprised to see at least one Venusaur card on this list with a high price tag attached to it. 
Its value can be attributed to the enduring popularity of the original Pokemon trading card set that helped kick-start the collecting craze in the United States. 
Of the Pokemon featured in the set, Venusaur should continue to be a hot commodity thanks to the powerful nostalgia it holds as one of the final evolutions of the three starter Pokemon from the original video games. 
Update!: This card has now sold for $60,000! Click Here to see the listing.
We have already seen Blastoise on this list and so it shouldn't be too long again until we see…

9. Neo Destiny Shining Charizard 1st Edition
| | |
| --- | --- |
| Estimated Average Market Value (2021) | $6,770 |
| Estimated Copies Worldwide | 660 |
Of the cards released to the general public, the Shining Charizard remains one of the most valuable. 
This is because it was one of the first "shiny" Pokemon cards in history! Combine that with the fact that it was part of the Neo Destiny set, its print run was lower than average.
We are starting to see this card regularly sell for around $15,000 and reportedly a Gem Mint version of this card has now been sold for just over $25,000. It's arguably a bit premature in this card's life cycle to be selling at such a high price tag, but it does tell us that we can expect this card to continue to rise in value.
You can keep track of this card's rapid increase in value by seeing live listings of Neo Destiny Shining Charizard.
Seen as one of the most beautiful illustrations that feature the ever-popular Charizard with foiling that changes colors with the light (by Hironobu Yoshida), this card is on the hit list for all Charizard fans.

8. 1998 Japanese Promo Tamamushi University Magikarp Trophy Card
| | |
| --- | --- |
| Estimated Average Market Value (2021) | $17,500 |
| Estimated Copies Worldwide | 70 |
Another example of a card that can trace most of its value to its absolute scarcity is the Magikarp Tamamushi University Promotional Cards that sold for $66,100 in February 2021.
The print run may total less than 1,000 cards available in the world and only 12 of those cards have been graded at PSA 10.
The card was originally produced as a prize to be awarded to Japanese school children who attended one of the first Pokemon card game conferences ever and won a single game before the event was over.
Keep track of live listings for Tamamushi University Magikarp by clicking this link.
A part of me can't help but smile at the fact that a Pokemon that was often referred to as one of the most "useless" Pokemon in the video game series, sits so highly as one of Pokemon's most valuable cards.

7. Tropical Mega Battle Cards
| | |
| --- | --- |
| Estimated Average Market Value (2021) | $6,500 |
| Estimated Copies Worldwide | 60 |
The Tropical Mega Battle was a TCG tournament that took place annually in Honolulu, Hawaii from 1999 to 2001. 
The exact details of who was given which cards and for what is still unclear today, which most likely only adds to their value, as no one is totally sure how many of them are out in the wild.
There have been reports that one of these cards was sold for approximately $100,000, but the details around the transaction are unclear and the listing page no longer appears to be available.
One thing is for certain though, with copies of this card being so limited, it's only a matter of time before the value of these cards reaches a point where someone tries to cash in and moves these cards further up the list.

6. Kangaskhan Family Event Trophy Card
| | |
| --- | --- |
| Estimated Average Market Value (2021) | $100,000 |
| Estimated Copies Worldwide | 50 |
The scarcity of this card is due to it only being given out to competitors at a specific Pokemon tournament. 
This particular Japanese tournament was held in the spring of 1998 and is unique in that it encouraged and allowed both parents and children to participate together.
Hence why Kangaskhan was chosen as the featured Pokemon for this promotional card as the art shows off both parent and child Kangaskhans.
These cards rarely hit the open market, but when they do, buyers are often willing to pay more than $100,000 for a mint condition card. 
The card features the earlier Pocket Monsters Trading Card Game logo that the company was forced to abandon due to copyright issues. 
All of the above factors contribute to the astronomical prices that some collectors are willing to pay for this card and live listings for this card can be seen for over $200,000!

5. 2000 Neo Genesis Lugia
The poster Pokemon of one of the most popular installments into the franchise – Pokemon Gold and Silver. 
With Lugia being the key art for the silver edition of the Pokemon Game Boy games, Lugia quickly rose in popularity among Pokemon fans. 
However, with the release of these cards, there were reportedly multiple printing errors and manufacturing issues during production, making this card extremely difficult to find in perfect condition. 
If you are interested in finding out why this card is so expensive and why it is expected to keep going up in price, then who better to explain than the company that sold it.
Click the short video below to get a better understanding of why this card is one to watch for Pokemon investors. 

4. 1998 Commissioned Presentation Blastoise
| | |
| --- | --- |
| Estimated Average Market Value (2021) | $300,000 |
| Estimated Copies Worldwide | 2 |
Now this card is special! Really special! 
Even among all of the weird and wonderful cards on this list, there is something truly amazing about this card, and you definitely don't have one hidden away in your childhood collection.
How do I know? 
This Blastoise is 1 of 2 copies ever made, and we don't even know where the second one is, or if it still even exists!
Wizards of the Coast in 1998 ordered the printing of these 2 cards in order to showcase them to Nintendo and get their approval for them to start producing Pokemon cards in English.
It's not unfair to say that, if it wasn't for this card we may never have had Pokemon cards ever printed in English – imagine that!
The selling of this card was so historic that the auction was live streamed and recorded.
Click the video below to watch the card being sold live for $300,000.

3. 1998 Japanese Promo Holo Illustrator Pikachu
| | |
| --- | --- |
| Estimated Average Market Value (2021) | $375,000 |
| Estimated Copies Worldwide | 37 |
Some of you may already know, but I have a personal connection with this card as I was part of the team that brokered the selling of this card – multiple times.
In Mid 2020, we broke a world record by selling one of these Pikachu Illustrator cards for $233,000 (25,000,000 JPY) which at the time solidified the Pikachu Illustrator card as the world's most expensive Pokemon card.
Shortly afterward, Pokemon cards saw a huge spike in popularity and we began to see the price of cards skyrocket. Our world record was short-lived as new sale records were being set on almost a monthly basis as Pokemon continued to ride its resurging wave of popularity. 
In November 2020, we helped sell our 3rd Pikachu illustrator card for another, short-lived, world record-breaking $360,000 (38,000,000 Yen).
Did You know?: It's rumored that there may only be 10 of these cards still surviving from the printed original print run.
My only regret is due to the security we hired to keep these cards safe during transportation, not even I was allowed close enough to have my photo taken with any of the cards, but you know what they say – 4th times the charm!
Expect this Pikachu card to keep shocking us with just how much it raises in value in the future, but I would maybe hold off on paying the $3,000,000 asking price of this live listing.

2. 1999 Base 1st Edition Holo Stamp Shadowless Charizard
| | |
| --- | --- |
| Estimated Average Market Value (2021) | $43,654 |
| Estimated Copies Worldwide | 3,113 |
If you know Pokemon cards, you knew this card was coming.
Possibly the most iconic chase Pokemon card there is, the base set 1st Edition, Holo, Stamped, Shadowless Charizard.
While another card on this list has now sold for more money, for some Pokemon card collectors, there will only ever be one true "Holy Grail" when it comes to Pokemon cards, and this is it.
It's not just the fact that this card is first edition, but the huge popularity of the Charizard Pokemon character has put this card head and shoulders above the rest of the competition. 
The popularity of a Pokemon can play a huge role in its market value; it's not a coincidence that Charizard appears on this list more than any other Pokemon. 
Update!: This card has now sold for over $500,000! Click Here to see the listing.
With its flashy holographic shine, this card has been highly prized ever since it first hit playgrounds and continues to be a pillar of the Pokemon trading card game.

1. 1995 Japanese Topsun Charizard, Blue Back
| | |
| --- | --- |
| Estimated Average Market Value (2021) | Unknown |
| Estimated Copies Worldwide | Unknown |
The most expensive Pokemon card on this list was also more than likely one of the cheapest Pokemon cards to buy in history – You can't help but smile at the irony.
In 1997, a Japanese company known as "Top-Seika" obtained the rights to feature Pokémon on card inserts that would be included with the sale of packets of chewing gum – the gum was apple flavored in case you're curious.
Each packet would contain 2 pieces of gum along with two cards from the Topsun promotion. Each packet was sold at only 60 Yen – that's approximately $0.60!
The set contained a wide variety of Pokémon from generation 1 alongside Charizard and there were even misprinted versions released.
But what makes this card so special, besides the fact that it features fan favorite Charizard, is the Blue back.
In what would later become typical of Pokemon cards, intentionally or not, the cards were released in waves similar to how the original base set of Pokémon cards came in editions – First Edition, Shadowless and Unlimited.
In the case of the Topsun insert cards, what we might refer to today as a "First Edition" card, was a Topsun insert card that had a blue back and featured no number on the top left border of the card name.
This record breaking Charizard is just such a card.
How many of these first edition Topsun cards actually remain in the world is hard to know, but the vast majority of these cards were likely thrown away or are in such bad condition that they wouldn't be worth much.
There a few live listings of this card, but I expect them to sold quickly even with a lower PSA score.
You can hear the full story of this Pokemon card by the video linked below.
This article was a lot of fun and hard work to put together, but I should take a moment to mention how these cards are currently ranked.
The price of Pokémon cards around the world is currently spiking and so there is a good chance by the time you read this list that it could well be outdated with new records set – that's just how crazy the world of Pokemon cards is right now!
I hope this article was as eye opening for you to read as it was for me to write!